The Jones County School District is being recognized as an "A-Rated, Top Performing" school district!  The district received this rating based on the Mississippi Statewide Accountability System for the school year 2022-2023.  This rating system assigns a letter grade of "A" through "F" based on student achievement, student growth, student participation in testing, and other academic measures.  Congratulations to the students, teachers, parents, administration, community members, and all stakeholders on the achievement of this highest academic rating!
Request for Proposals/Quotes
Northeast Jones seniors Jaden Graham and Colby Martin have received the academic honor of the National Rural and Small Town Award (NRSTA) presented as part of the College Board National Recognition Programs.  These programs celebrate students who excel academically on College Board assessments, including the Preliminary Scholastic Aptitude Test (PSAT) and Advanced Placement Exams.   Jaden and Colby are Advanced Placement and Dual Credit students and are active both on campus and in the community!  Congratulations!!
Northeast Jones senior Tucker Ryan Milner is one of the 16,000 National Merit Scholarship Semifinalists!   Tucker is the son of Ryan and Heather Milner of Laurel.  A member of the Varsity Football team, He is an Advanced Placement and Dual Credit student.  As a member of Senior Beta, he has competed in the Beta Quiz Bowl and Living Lit competitions at Mississippi Beta Convention!
          Congratulations Tucker!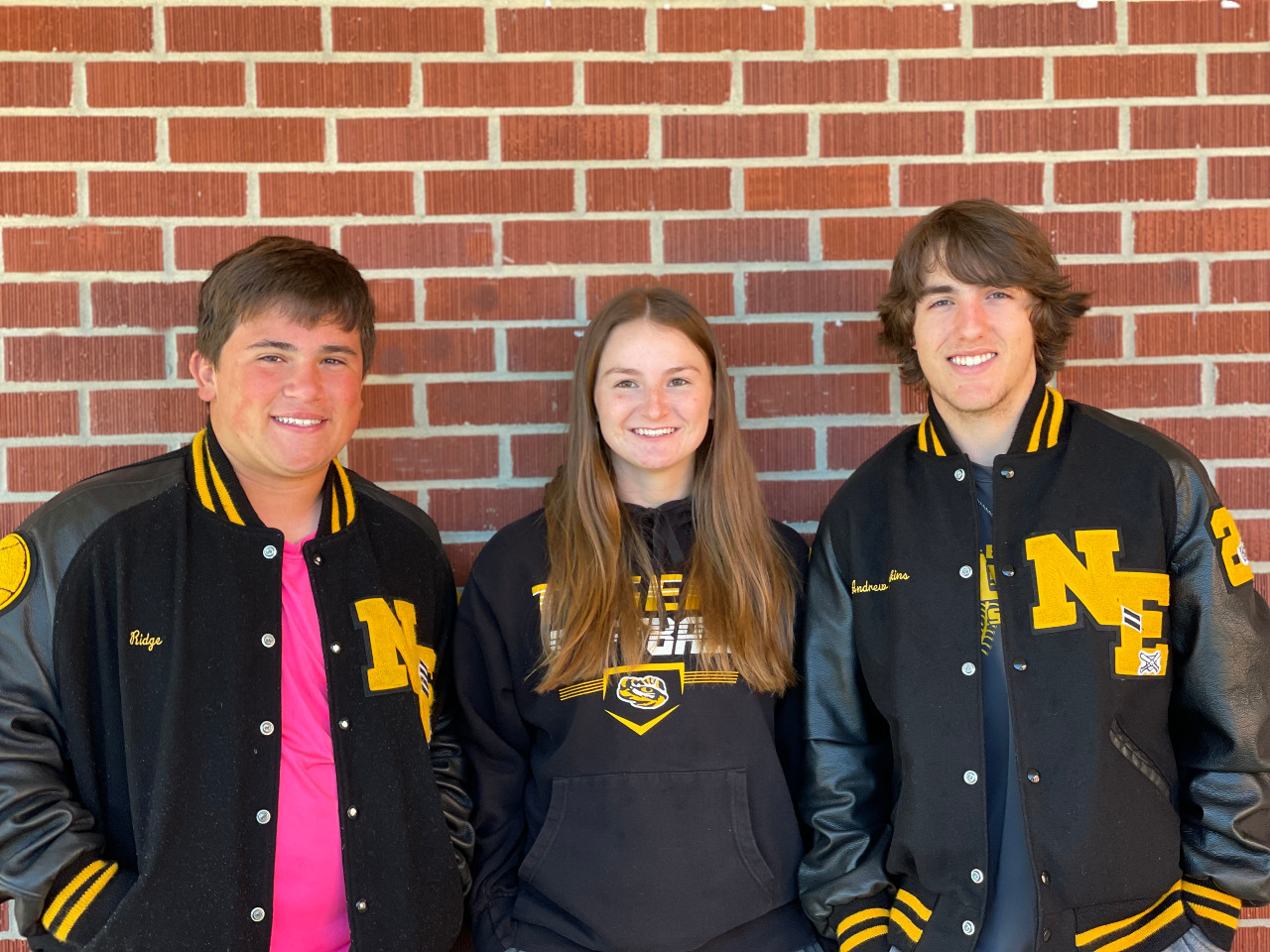 The Northeast Jones team "NEJ Gold" composed of Jaden Graham, Andrew Hankins, and Ridge Jones has been invited to compete in the Mississippi Personal Finance Challenge 2023 State Championship for the High School Division!  The in-person competition is scheduled for Thursday, April 20th in Jackson.  This is such an honor as only 12 teams statewide have qualified for the High School Division.   These students are in Mrs. Angela Culpepper's Smart Start Dual Enrollment Course. Congratulations Ridge, Jaden and Andrew!
Pictured left to right: Ridge Jones, Jaden Graham, and Andrew Hankins
South Jones High School Senior, Mason Johnson, recently earned academic honors from the College Board National Recognition Programs. He was named a 2022-2023 Scholar and was awarded the National Rural and Small Town Recognition Award. Mason earned this distinction by excelling on his PSAT, AP exams, and overall general studies.
Will Thompson, a senior at South Jones, was also recently selected to represent South Jones High School at the 2023 Magnolia Boy's State leadership program at the University of Mississippi, where he was appointed by the state of "Magnolia" governor to the House of Representatives. Will also helped to write a bill that got passed through both the House and Senate, and helped write the plan for his city project. Will's participation in this program helps him qualify for scholarships to Ole Miss, Mississippi State, Southern Miss, and other Mississippi universities.
Mason Johnson was recently selected to represent South Jones High School as a delegate at the 2023 Mississippi Boys State leadership program at The University of Mississippi.
Sorry, but there was nothing found. Please try different filters.